SWESTEP – Chemical Transformation and Recycling Technology Boosts Corporate ESG Development
SOURCE; Link to original article from United Daily News in Taiwan
In the era of carbonomics, experts predict that carbon will become the third currency of the market, in addition to the US dollar and the Chinese yuan. Mr. Huang Jieping, CEO of Greatech Technology, said that Sweden has the highest carbon tax in the world, up to 122 euros per ton, which puts huge pressure on enterprises but also cultivates world-class carbon reduction capabilities. Greatech has introduced SWESTEP's sustainable technology of chemical transformation and recycling from Sweden to help enterprises promote ESG (Environmental, Social, and Governance).
Greenhouse gases mainly come from fossil fuels, and coal combustion emits a large amount of carbon. Converting coal into oil is a good idea, but the cost of producing clean coal is too high. Data shows that Taiwan's annual carbon emissions are about 280 million tons, of which Formosa Petrochemical Corporation alone accounts for 25 million tons, and with the affiliated companies in the group, the total accounts for nearly 20%. Although Yunlin County's income is not high, its carbon emissions are not small, and Mailiao bears a significant responsibility. Groups such as Formosa Plastics, Uni-President, Evergreen, and China Steel actively seek carbon reduction solutions, and all have shown interest in SWESTEP and are carefully evaluating it.
SWESTEP can recombine the carbon and hydrogen molecules of seven recycled plastics into hydrocarbon bonds, producing naphtha oil that is similar to crude oil and can be further processed into chemicals such as ethylene. The conversion rate of SWESTEP is 85%, and the production cost of 1 liter of synthetic biodiesel is 0.5 euros, which can be as low as 0.3 euros for large-scale equipment. The residual 3% mineral salt residue can be used as fertilizer, achieving true zero-waste circular economy. One liter of this type of biodiesel can generate 5-10 degrees of electricity, and the cost of electricity generation per degree is even lower than nuclear energy, Huang Jieping said.
Large carbon emitters and the capital market are highly interested in SWESTEP. SWESTEP's fully automated pre-processing process consists of 11 procedures and can run 24 hours a day. With a total cost of 20 million euros (about 660 million Taiwan dollars) for the complete set of equipment in the middle and later stages, the equipment can produce 1 ton of diesel per hour, and the estimated IRR of small and large equipment is 29% and 45%, respectively, with a recovery period of 5.5 years or 3.5 years. The negative pressure smokeless chimney equipment covers an area of 200 pings, including a total of 1,500 pings in the surrounding area. Compared with incinerators, it occupies several hectares of land. In Penghu, with a daily garbage output of 72 tons, only one set of equipment is needed.
Energy independence and security are crucial for island economies, and Taiwan is no exception. In the early stage, Greatech Technology aimed at Penghu and used SWESTEP to achieve a low-carbon island. The main benefits come not only from the processing fee but also from the renewable energy and carbon credits generated. Huang Jieping said that Japan exports technology and funds to Myanmar and the world through the Joint Crediting Mechanism (JCM) of carbon credits, following this model. There are more than 50,000 islands around the world, and international funds, including Saudi Arabia's basic industry, are optimistic. Japanese venture capital, H & Q Asia Pacific, which was approved by the National Development Council at the end of last year, are sharpening their swords.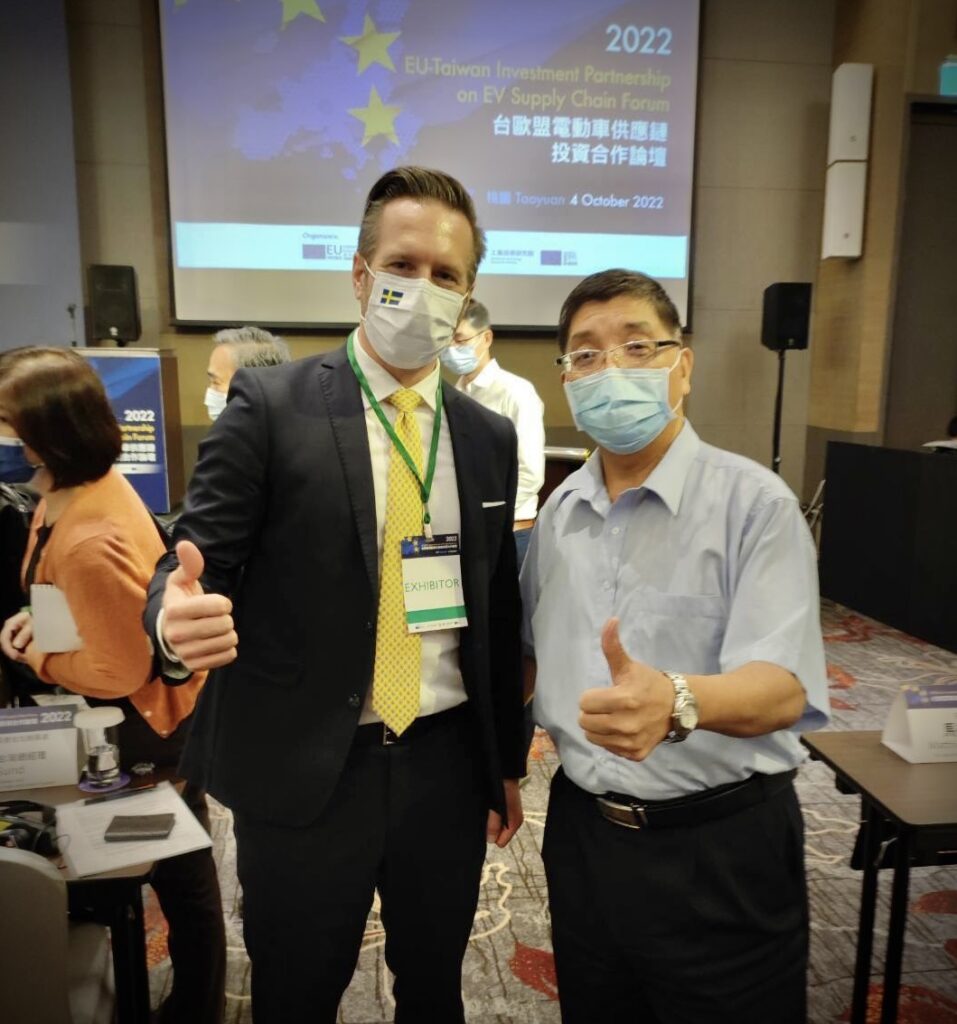 Mr. Huang Jieping together with Petter Sund, General Manager of Taiwan and Director of the Business Division of the Swedish Trade and Investment Council, at the Taiwan-EU Electric Vehicle Supply Chain Investment Cooperation Forum last year.
SOURCE; Link to original article from United Daily News in Taiwan