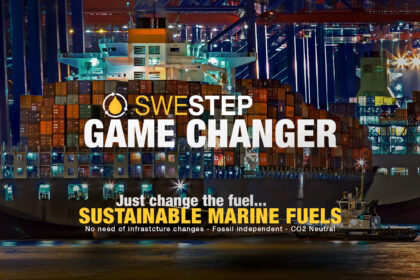 `
The Marine Environment Protection Committee (MEPC) has since the beginning of this summer been working on issues that include measures to tackle climate change, renewable marine fuels, including the adoption of short-term measures to reduce ships carbon dioxide intensity and the way forward for a more sustainable merchant fleet on our seas.
In order to deliver viable and sustainable solutions, (That is in line with the original IMO strategy for greenhouse gases, which aims to reduce the carbon dioxide intensity in international shipping by 40% by 2030, compared to 2008) the industry needs a technology that is both environmentally and economically viable.
Swestep offers a sustainable and profitable solution that is scalable and flexible in regards to feedstock variations. It also gives the Marine sector a possibility to take control of two problems with one solution – "Fuel and Residues/Waste".
Swestep invites the industry to "Open Talks" – Dialogue, studies and data for calculations aimed at comparing the Swestep CC Process with other methods that have been proposed to the market.
Time to take the next step
Time to change fuel …
CONTACT
Karl Magnus Mattson /CEO on kmm@swestep.com
Pater Kollert / CFO on peter.k@swestep.com