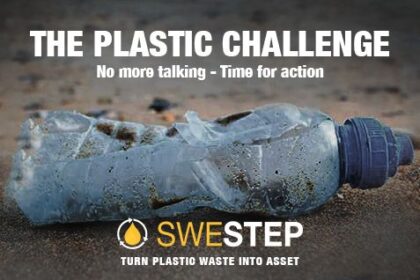 No more Talking – Time for Action
The definition of recycling needs to be expanded and made more inclusive and accessible.
In order for the industry to be motivated to take its recycling responsibility, everything must be simplified in accordance with producer responsibility.
The market needs access to alternatives to mechanical recycling, which is today a priority, as it has its limitations and is both time-consuming and expensive. – And it is neither viable nor sustainable that so much of the waste (especially plastic residues) still ends up in landfills or sent for incineration.
"Feedstock Recycling" must be seen as an important part of the future sustainable solution. It is one of the most profitable and flexible recycling solutions on the market, seen from both input material (feedstock) and end products.

SWESTEP's CC technology (Catalytic Conversion Process) is a feedstock recycling solution (Also known as molecular recycling or chemical recycling) that offers an efficient solution that enables the circulation of polymeric materials in both an economical and environmentally viable way.

The key difference, matched with today's dominant cracking technology, is to go from the recycling solution "Plastic to Plastic" to "Plastic to Liquid to Plastic".

The feedstock containing different quality of plastic material mixed with 30% biomass residue will be converted into a chemical raw material, with properties similar to those obtained from a virgin feedstock, can be refined into circular performance chemicals based on the structure, requirements and properties of the polymer product.

The end product is a chemical raw material, in liquid form, which gives the fossil-dependent industry an important piece of the puzzle/ model to gain control of the circularity from a producer responsibility perspective and also become fossil independent.
Plastic waste and residues can also be used as feedstock for "energy recovery". Therefore it is important that the market also include "energy recovery" as an environmentally friendly form, in cases where it is used for the production of renewable synthetic fuels. SWESTEP's patented CC technology can also deliver solutions for both the energy and fuel segment.

Time for change – Time to take the next step
#Swestep – Next Generation Recycling Technology
More about the benefits of SWESTEP
SEE LINK – https://lnkd.in/dE5Br5Mv