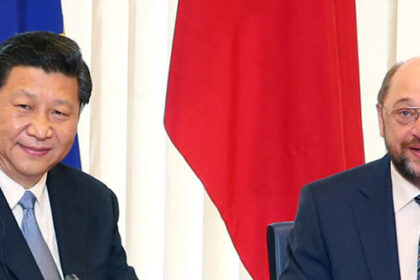 Executive Chairman ZHANG Yi Visits KTH Royal Institute of Technology of Sweden
2016-1-21
On January 21st, 2016, Executive Chairman ZHANG Yi paid a visit to KTH Royal Institute of Technology of Sweden in the company of Ms. Vanessa Folkesson, Head of Nordic Team of EUCNC. Mr. ZHANG Yi has conferred with the heads of several sci-tech startups of great significance that originate from KTH as for the feasible cooperation. The concerned parties have reached the consensus on the joint efforts of promoting the sci-tech cooperation between China and Nordic countries.
Mr. ZHANG Yi firstly exchanged the views with Mr. Karl Magnus Mattsson, Founder and CEO of SWESTEP and Mr. Klas Engvall, Professor of KTH as for the green technology cooperation.
At the meetings, Mr. ZHANG Yi made the detailed presentation on the commercial opportunities that sprouted out of current situations of China, namely economic transformation and industrial upgrading. He remarked, EUCNC put the sci-tech innovation cooperation on the top priority and set the work under the guidance of "European Technology, Chinese Market, Win-Win Cooperation". In the meanwhile, EUCNC has reached the consensus with several Chinese cities as for the sci-tech cooperation with a view to substantiating China-Europe Urbanization Partnership with the tangible projects.
Scientists and engineers of KTH indicated their ready willingness of making their contribution to Sino-European people through the concrete sci-tech projects by virtue of the platform of EUCNC.
Mr. ZHANG Yi offered the invitation to the scientists and engineers to visit China in due time. EUCNC would set the stage for these sci-tech companies on which they could present themselves to the full, which would bring forth the possibility as for the future cooperation. Scientists and engineers of KTH were quite looking forward to the related arrangements and expressed their willingness of facilitating the in-depth cooperation between KTH and EUCNC.