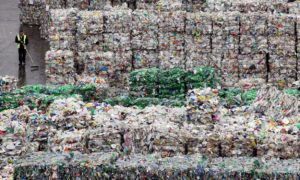 Stop exporting plastic waste to China to boost recycling at home, say experts
Governments must end incentives that see plastic waste shipped abroad, where it may be buried or burned, rather than being turned back into bottles at home, say industry leaders
Governments must stop exporting so much plastic waste to countries such as China and keep more in-country to be recycled into bottles to tackle the waste crisis, industry insiders say.
A day after the Guardian revealed that a million plastic bottles are bought every minute across the world, experts aiming to provide a closed loop in which each bottle is used to make a new one, say their industry faces multiple hurdles.
Chris Brown of Clean Tech, based in Lincolnshire – the only site in the UK which produces food grade recycled polyethylene terephthalate (Pet) from plastic bottles to turn them into new bottles – said: "It has been a very challenging environment."
"The recycling of Pet back into rPet (recycled plastic) is a relatively new industry and it has proven very difficult for any businesses to survive in recycled plastics. The margins are such that they struggle to be successful, particularly when the processes require large capital investment and present a significant technological challenge."
He called for the UK government to end the incentives for export of post consumer plastic to China and other countries – more than two-thirds of plastic collected for recycling in the UK was sold abroad in 2016, where it may be incinerated or buried rather than recycled according to industry experts quoted by Greenpeace.
"Being able to keep more of that material in this country would be better for the bottle manufacturers and their customers," he said. "It is important that the feedstock is available for rPet producers, so what we would like to see is an end to the incentivising of its export. Having an incentive to export the bales instead of keeping them in the country to be used to make more plastic bottles does not seem like what we should be doing at the moment."