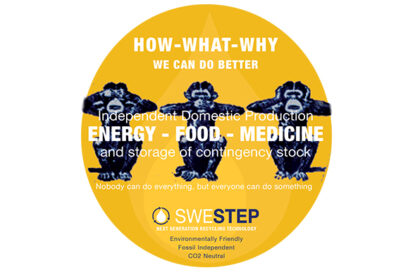 It is obvious how vulnerable our society is when we today can see the lack of materials and resources that arise in the wake of closed borders.
A profound social change is underway in the quiet and we are realizing that our high-tech civilization is not as invulnerable as many policymakers and planners have stated, and the risks of climate change is becoming increasingly evident even among those who make optimistic assesments of the corona ciris.
We can all see the crucial importance and need of emergency stocks, independent domestic production of energy, food and medicine as well as functioning national health care systems.
Unlike the social changes that we have been accustomed to, it seems that the revaluation and re-prioritization of established plans and decisions can be made much faster.
– So, to reduce future vulnerability, we now have an opportunity to draw up a climate friendly roadmap for a true fossil independence that is both sustainable and economically viable.
We must drastically reduce our fossil import dependence and prioritize sustainable domestic self-sufficiency production of renewable energy and fuels.
Nobody can do everything, but everyone can do something …
Swestep work with a recycling technology that can process and recycle hydrocarbon based (all organic incl. plastics) waste and residues from agriculture, industry, municipalities and households. The primary end products are today renewable energy products and fuels for the CO2 neutral economy. But the twist that makes Swestep's CC Process (Catalytic Conversion) unique, from a circular economic perspective, is that the oil based raw material can also be refined into performance chemicals that could help fossil dependent industries close the loop and become fossil independent.
Today, in the midst of the Corona epidemic, we have taken the time to go through older documents and found one of Swestep's early mission statements.
– "Our mission was, and still is to develop a workable, stable and sustainable solution that will be a foundation for nations, municipalities and companies to build up a domestic independent and economically viable production capacity of renewable energy and fuel, regardless of size or geographic location. – Seen from where we are today, time has caught up with us in a positive way…
Are you part of the solution or part of… Time to take the next step, time for change.
Thank you most humbly for your time and attention.
#Swestep – Environmentally Friendly, CO2 Neutral, Fossil Independent
---